Unmarriageable
by Soniah Kamal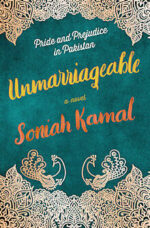 Released:
Jan 22, 2019
Publisher:
Ballantine Books
Kiwi Rated It:
View Title On:
Goodreads
Get A Copy:
Amazon
,
Barnes & Noble
or
Kobo/Walmart
In this one-of-a-kind retelling of Pride and Prejudice set in modern-day Pakistan, Alys Binat has sworn never to marry—until an encounter with one Mr. Darsee at a wedding makes her reconsider.

A scandal and vicious rumor concerning the Binat family have destroyed their fortune and prospects for desirable marriages, but Alys, the second and most practical of the five Binat daughters, has found happiness teaching English literature to schoolgirls. Knowing that many of her students won't make it to graduation before dropping out to marry and have children, Alys teaches them about Jane Austen and her other literary heroes and hopes to inspire the girls to dream of more.

When an invitation arrives to the biggest wedding their small town has seen in years, Mrs. Binat, certain that their luck is about to change, excitedly sets to work preparing her daughters to fish for rich, eligible bachelors. On the first night of the festivities, Alys's lovely older sister, Jena, catches the eye of Fahad "Bungles" Bingla, the wildly successful—and single—entrepreneur. But Bungles's friend Valentine Darsee is clearly unimpressed by the Binat family. Alys accidentally overhears his unflattering assessment of her and quickly dismisses him and his snobbish ways. As the days of lavish wedding parties unfold, the Binats wait breathlessly to see if Jena will land a proposal—and Alys begins to realize that Darsee's brusque manner may be hiding a very different man from the one she saw at first glance.

Told with wry wit and colorful prose, Unmarriageable is a charming update on Jane Austen's beloved novel and an exhilarating exploration of love, marriage, class, and sisterhood.
In case I've never said it before (though I'm fairly certain I have), I am a sucker for Jane Austen and, by extension, re-imaginings of Jane Austen. So, when I saw Unmarriageable by Soniah Kamal, it was a no-brainer for me. Set in Pakistan, a country still fairly backward in women's rights, Alysba Binat is past prime marriageable age, working as a teacher and trying to inspire her female students to challenge gender norms and aspire to be more.
Soniah Kamal has weaved a rich, occasionally confusing, cast of characters that vividly showcase what life in Pakistan is like for women. Sometimes scary (there's a scene where Alys' family are assured that she won't become the victim of an acid attack), sometimes hilarious (seriously, Mrs. Binat!), it's definitely an eye-opener (and do be sure you check the back of the book to see what the organizations referenced in the book actually do). Most interestingly, Ms. Kamal has stayed very true to the original Pride And Prejudice, even with the modernization and culture shift.
I loved the little habit of re-framing one of the most well-known lines, especially with Alys' students.
It is a truth universally acknowledged ...
Where this book fell a little flat for me was with the names and nicknames. I understand that the use of nicknames is commonplace in Pakistan, but some seemed a little silly and forced, especially when some characters had their names melded together, like poor HammySammy, "Bungles" sisters. A bit more of a variation in larger characters would have been less out of place too - I mean, I'm not *that* up on Pakistani naming conventions, but "Georgeullah Wickaam" just seemed a little unbelievable.
Despite those little quirks, if you're looking for a quick read with a fresh take on a beloved classic, look no further than Unmarriageable.
Unmarriageable was provided free by Ballantine Books (via NetGalley) in return for my honest opinion.
You May Also Like:
TBR Pile