I Will Make You Pay
by Teresa Driscoll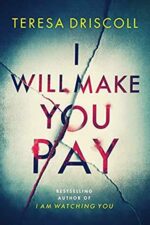 Released:
Oct 10, 2019
Publisher:
Thomas & Mercer
Kiwi Rated It:
View Title On:
Goodreads
Get A Copy:
Amazon
or
Barnes & Noble
It seems like an ordinary Wednesday, until the phone rings. A mysterious caller with a chilling threat. Journalist Alice Henderson hangs up, ready to dismiss it as a hoax against the newspaper. But the next Wednesday, the stalker makes another move—and it becomes clear that this is all about Alice.

Someone wants her to suffer, but for what? Her articles have made her a popular local champion—could it be her past rather than her work that's put her life in danger? Alice is determined not to give in to fear, but with the police investigation at a dead end, her boyfriend insists on hiring private investigator Matthew Hill.

With every passing Wednesday, the warnings escalate until it's not only Alice but also her family in the stalker's sights. As her tormentor closes in, can Alice uncover what she's being punished for before the terrifying threats become an unthinkable reality?
It started on a Wednesday. A threatening phone call received at work. Journalist Alice dismisses it as a prank.
Until the following Wednesday.
As the threats escalate, Alice's partner hires a private investigator, a former policeman, to both protect Alice and find her stalker.
And what about Alice's own secrets?
Sounds good, right? And it is.
Told in three voices - Alice, PI Matthew Hill, and a mystery boy known only as "Him" - spanning both past and present, I Will Make You Pay sure keeps you guessing on who's who and what's what.

It's a slow-burn of a book, with some sweet moments (such as Alice's relationship with her mother), but there are little bits there that seem like they were added just for the word count. Fortunately, those bits are few and far between and once the tension ramps up, it really ramps up, with an ending you quite possibly won't see coming.
TL;DR: Kiwi's Quick Take
What I Loved: This one is a slow burn with excellent character development. And the mystery narrator and his journey? Yikes!
What I Didn't Love: OK, while I loved that character development, some of the added backstories and current side-drama caused the story to drag a bit.
Conclusion: I Will Make You Pay is a good book, that can take a little bit to keep up with. There are a couple too many subplots, but the twists are definitely there and definitely worth it.
I Will Make You Pay was provided free by Thomas & Mercer (via NetGalley) in return for my honest opinion.
You May Also Like:
TBR Pile