The Words I Never Wrote
by Jane Thynne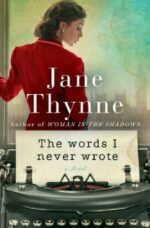 Released:
Jan 21, 2020
Publisher:
Ballantine Books
Kiwi Rated It:
View Title On:
Goodreads
Get A Copy:
Amazon
,
Barnes & Noble
or
Kobo/Walmart
A chance discovery inside a vintage typewriter case reveals the gripping story—and heartbreaking secrets—of two sisters on opposite sides of World War II in this captivating novel for readers of Lilac Girls and The Women in the Castle.

New York, present day: On a whim, photographer Juno Lambert buys the 1931 Underwood typewriter that once belonged to celebrated journalist Cordelia Capel. Within its case she discovers an unpublished novel, igniting a transatlantic journey to fill the gaps in the story of Cordelia and her sister's loving yet tempestuous relationship.

England, 1936: Cordelia's socialite sister, Irene, marries a German man from a powerful family who whisks her away to Berlin. Cordelia remains in England to pursue the writing career she cherishes, but in the male-dominated world of journalism, she can only get hired as a typist. The sisters exchange letters as politics begin to boil in Europe and tensions come to a head when Cordelia discovers Irene's husband is a Nazi sympathizer. Does that make Irene one by proxy? With increasing desperation, Cordelia writes to Irene, seeking to understand her loyalties. But the sisters' letters don't tell the whole story. So Cordelia decides to fill in the blanks by sitting down with her Underwood and—finally—writing the truth.

When Juno discovers the trove of letters the two exchanged, a vivid portrait of Berlin in the devastating years during and after the war comes into focus. In this moving novel, Jane Thynne offers an intimate glimpse into a lesser known side of World War II.
Please Note: While it goes without saying that many of the books I review contain content that may be disturbing to some, The Words I Never Wrote contains themes that may be especially triggering, specifically rape and/or sexual abuse. Please read at your own discretion.
In 2016, Juno Lambert, recovering from a break-up and the loss of a pregnancy, purchases an antique Underwood typewriter, which contains an unreleased manuscript by a famous journalist. In it, she discovers the story of two women - Cordelia Capel, a young woman trying to find her way through a very man-centric world, and her sister Irene, who marries a German industrialist just as Hitler is coming to power.
Told in two timelines and in three voices, The Words I Never Wrote follows Cordelia as she travels to Paris, first as a secretary at a newspaper office and then as a fashion journalist, Irene as she settles into her new married life in Germany, hob-knobbing with the upper echelons of the Nazi party and trying to reconcile her glamorous lifestyle with the bitter truth of Hitler's reign and the reality that it could turn against her at any moment, and finally, Juno as she becomes enthralled by the sisters' story and their separation.
Jane Thynne mostly skips the war itself, aside from a few relevant details, concentrating instead on Hitler's rise to power and the aftermath. Most of the book covers the sisters, so I was curious more than halfway through to see where Juno was going to fit back in. In that, we see the sweet story of a young woman reclaiming her own life after adversity.
The Words I Never Wrote also includes several historical figures - not just the usual Nazi suspects, but the likes of Kim Philby (the Cambridge Five), Martha Dodd and Janet Flanner.
TL;DR: Kiwi's Quick Take
What I Loved: Jane Thynne has drawn very real, very nuanced characters and given them an emotional edge that is rare. She covers events we don't usually hear about (the rise of the Nazi party and the reality of life in Germany after the war) with grace, while not shying away from the brutal reality, bringing it all into focus with the alternate lives of the two sisters and the lengths they go to to protect each other.
What I Didn't Love: Some of the time jumps could be a little jarring.
Conclusion: A different take on the WWII historical, The Words I Never Wrote is a great addition to an overstuffed genre, filled with heartbreak, sacrifice, and redemption. I am a definite fan!
The Words I Never Wrote was provided free by Ballantine Books (via NetGalley) in return for my honest opinion.
You May Also Like:
TBR Pile