Killers Of The Flower Moon: The Osage Murders and the Birth of the FBI
by David Grann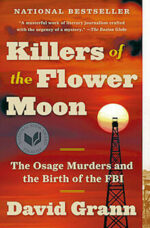 Released:
Apr 18, 2017
Publisher:
Doubleday
Kiwi Rated It:
View Title On:
Goodreads
Get A Copy:
Amazon
,
Barnes & Noble
or
Kobo/Walmart
In the 1920s, the richest people per capita in the world were members of the Osage Indian Nation in Oklahoma. After oil was discovered beneath their land, the Osage rode in chauffeured automobiles, built mansions, and sent their children to study in Europe.

Then, one by one, they began to be killed off. One Osage woman, Mollie Burkhart, watched as her family was murdered. Her older sister was shot. Her mother was then slowly poisoned. And it was just the beginning, as more Osage began to die under mysterious circumstances.

In this last remnant of the Wild West—where oilmen like J. P. Getty made their fortunes and where desperadoes such as Al Spencer, "the Phantom Terror," roamed – virtually anyone who dared to investigate the killings were themselves murdered. As the death toll surpassed more than twenty-four Osage, the newly created F.B.I. took up the case, in what became one of the organization's first major homicide investigations. But the bureau was then notoriously corrupt and initially bungled the case. Eventually the young director, J. Edgar Hoover, turned to a former Texas Ranger named Tom White to try to unravel the mystery. White put together an undercover team, including one of the only Native American agents in the bureau. They infiltrated the region, struggling to adopt the latest modern techniques of detection. Together with the Osage they began to expose one of the most sinister conspiracies in American history.

A true-life murder mystery about one of the most monstrous crimes in American history.
David Grann presents us with one of the greatest atrocities and injustices in American history, yet it is one so many know so little about. The Osage Indians, forced off their land in Kansas when it became desirable to white settlers (including the Ingalls family, of Laura Ingalls Wilder fame), were resettled on a patch of rocky ground in Oklahoma that was believed worthless. Because of that, nobody batted an eyelid when the Osage Indians asked for mineral rights, to be transferred only within tribal families. When oil was struck in the early 1900s, the Osage became the world's richest people per capita, and the white man was out of luck. Even if they succeeded in stealing the land, the rights still belonged to the Osage. A few white men married into tribal families in order to benefit. Most just took advantage, thanks in part to the guardianship system.
Because the government deemed Indians to be genetically inferior and incapable of handling their own affairs, they required anyone with 50% or more Indian ancestry to have a guardian. Guardians were supposed to protect their wards, and take care of their assets. But, in Osage County, guardians redefined their role. They didn't offer protection or care. They just exploited.
Everything cost more for an Osage Indian. If they wanted a car, their guardian would purchase one, and sell it to their ward for 4-5 times more, pocketing the difference. Burials for the Osage cost up to $6000, a sum that would today be equal to $80,000. Some charged exorbitant fees for their services. Others just outright stole. For the latter, the Osage had no idea because they were never given access to their own funds, and no recourse even if they did. Those in charge of appointing guardians were powerful men and they appointed their own friends, family, or business acquaintances. For some of those guardians, having unfettered access to their wards accounts wasn't enough.
And, so the murders began. The Osage Indians were stabbed, poisoned, shot, homes were even blown up in a ruthless campaign. It's estimated that more than 60 full-blooded Osage Indians were murdered between 1921 and 1925.
During Xtha-cka Zhi-ga Tze-the, the Killer of the Flowers Moon.
I will wade across the river of the blackfish, the otter, the beaver.
I will climb the bank were the willow never dies.
- From Wi'-g-e by Elise Paschen.
After the 24th (known) murder, the new director of the (then) Bureau of Investigations, J Edgar Hoover, was trying to re-brand the agency that was coming under increasing criticism. But even he realized that for this case, he didn't need a suit - he needed someone who could fit in and better unravel the mystery. So, he sent Tom White, to Osage County.
White, a tough ex-Texas Ranger, set about assembling a team of undercover operatives, and routing those who he believed were using their positions for their own gain, or who were acting as double agents. Would be witnesses were thin on the ground. They were threatened, bought off, kidnapped, or murdered. One man, trying to help the Osage, was thrown from a moving train. On top of that, many whites believed the Indians were inferior and had little right to be rich, so had little sympathy for their plight or helping them find justice. What few prosecutions there were, were overturned, or the sentences reduced drastically. There was no real closure for the tribe, or for the families who lost so many and so much.
David Grann walks us through the injustices of the Osage Indians with extreme skill. We're first drawn into the story of Mollie Burkhart, a wealthy Osage Indian whose sister was one of the first known victims. As more of her family begin to die, we see glimpses of how terrifying life was for the Osage, and how even their own homes were not considered safe. We're then taken into the story of the investigation, from the failed attempts at investigating prior to J. Edgar Hoover, and the story of Tom White, the agent who discovered that the corruption (and the death toll) was far greater than anyone imagined. Finally, we see Grann himself recount his research and his trips to the reservation to lay bare the aftermath and facts, so brutal and horrific that it boggles the mind.
Killers of the Flower Moon reads more like a novel than a true story, and there were several times I wished for it to be a sweeping dramatic work of fiction that would eventually have some semblance of a happy ending. Despite the fact you're likely to be left horrified, Flowers of the Killer Moon is well-researched, well-written and an altogether compelling read.
Stores gone, post office gone, train gone, school gone, oil gone, boys and girls gone—only thing not gone is graveyard and it git bigger.
Update: Killers of the Flower Moon was named as an Amazon Book of the Year.
You May Also Like:
TBR Pile