Broken
by Betsy Reavley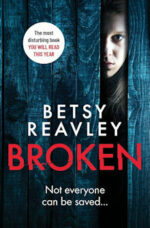 Released:
Feb 18, 2019
Publisher:
Bloodhound Books
Kiwi Rated It:
View Title On:
Goodreads
Get A Copy:
Amazon
or
Barnes & Noble
Annabel, a troubled young woman trying to put her life back together, decides to take a trip to the Suffolk coast to clear her head and get away from her mother. But when she arrives in the little seaside town, she discovers a series of grisly murders have taken place and police are searching for a twisted killer.

After a fateful meeting with a mysterious stranger, Jude, the course of her life changes and soon she finds peace in a world away from the misery she has known.

But when Jude comes under suspicion from the police, and her idyllic world is threatened, Annabel's happy existence starts to become a nightmare.

Can Annabel escape her painful past or is her fate sealed? And why is she haunted by horrific visions when she seems on the verge of finding happiness?

This astonishing novel will take you on a shattering journey through Annabel's fight for survival and will ask if the greatest threat we pose is to ourselves.

Suitable for over 18's only. It contains graphic scenes some readers may find disturbing.

(previously published under the title Beneath the Watery Moon)
Please Note: While it goes without saying that many of the books I review contain content that may be disturbing to some, Broken contains themes that may be especially triggering, specifically extreme violence (domestic or otherwise). Please read at your own discretion.
I have gone around and around on how to rate Broken, and how to review it. Part of me wanted to rate it low because it's just so insanely dark and graphic and disturbing and because of that, difficult to read.
But, Betsy Reavley has done a superb job of writing both an unreliable narrator and surprising me with one of the biggest twists ever, so no matter how much I had to skim because her writing wormed its way so far under my skin it wasn't funny, it is an extremely well-written book. But - all my trigger warnings apply. All. Of. Them. Like, seriously. I'm saying it again, so you can't say you weren't warned.
Our main character, Annabel, is trying to find her way after being released from a mental institution. She finds her way to the Suffolk Coast, with the vague knowledge that girls have gone missing and turned up tortured and maimed beyond recognition. When she meets the handsome Jude, she starts to plan a new life, even while having disturbing and graphic dreams of pain and torture that she can't quite decipher. Is her manic depressive out of control? Or have the stories of the murdered girls affected her that much?
I can't say too much without giving the whole thing away, so I'm just going to send you back to those first two paragraphs. When this book flips the script, it's simultaneously mind-blowing and horrific. I've read some dark stuff and my tolerance for the twisted is pretty high, so I really have to give Ms. Reavley all the props in the world for finally giving me something that really tripped my "nope" meter!
Broken was provided free by Bloodhound Books (via NetGalley) in return for my honest opinion.
You May Also Like:
TBR Pile