A Stranger On The Beach
by Michele Campbell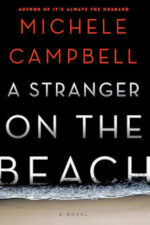 Released:
Jul 23, 2019
Publisher:
St. Martin's Press
Kiwi Rated It:
View Title On:
Goodreads
Get A Copy:
Amazon
,
Barnes & Noble
or
Kobo/Walmart
There is a stranger outside Caroline's house.

Her spectacular new beach house, built for hosting expensive parties and vacationing with the family she thought she'd have. But her husband is lying to her and everything in her life is upside down, so when the stranger, Aiden, shows up as a bartender at the same party where Caroline and her husband have a very public fight, it doesn't seem like anything out of the ordinary.

As her marriage collapses around her and the lavish lifestyle she's built for herself starts to crumble, Caroline turns to Aiden for comfort…and revenge. After a brief and desperate fling that means nothing to Caroline and everything to him, Aiden's obsession with Caroline, her family, and her house grows more and more disturbing. And when Caroline's husband goes missing, her life descends into a nightmare that leaves her accused of her own husband's murder.
Oh my goodness! I'm honestly not sure where to start with this review. There's so much to enjoy about A Stranger On The Beach and one teeny wee complaint.
Told in two perspectives - those of our main protagonist, the rich socialite Caroline Stark, and down-on-his-luck barman, Aiden Callahan - we're launched into a tale of a woman scorned and mistreated, blindsided by the events that are happening in her marriage, seeking comfort where she can, who soon finds herself in a situation she's not quite prepared for.
But not everything is what it seems at first blush, and neither Caroline nor Aiden have the same perspective on any of the events. In fact, their accounts vary wildly. And I love that because, well, unreliable narrators are my jam!
So who's telling the truth? Is it Aiden, who believes that everything he's doing is for a woman that he loves, who loves him, and who he's seeking to protect? Or is it Caroline, who believes that Aiden is a crazy stalker who's reading too much into their brief fling and is now targeting her and her family?
Where it fell a little flat for me was with some of the dialogue. It felt a little dumbed down in parts, mostly when it came to interactions between characters. I suspect that Ms. Campbell was trying to make the voices authentic to their age range, but they occasionally came off as a little bit stereotypical. Because of that, I had a little bit of trouble connecting with or caring for certain characters.
That said, the mind-boggling twists and turns more than made up for it and the ending was most definitely one worth waiting for.
So, if unreliable narrators, drawn-out suspense and mega-twists are your jam, A Stranger On The Beach is a quick, thoroughly enjoyable read that you should definitely pick up.
A Stranger On The Beach was provided free by St. Martin's Press (via NetGalley) in return for my honest opinion.
You May Also Like:
TBR Pile