Lies
by T.M. Logan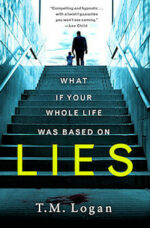 Released:
Sep 11, 2018
Publisher:
St. Martin's Press
Kiwi Rated It:
View Title On:
Goodreads
Get A Copy:
Amazon
,
Barnes & Noble
or
Kobo/Walmart
What if you have the perfect life, the perfect wife and the perfect child—then, in one shattering moment, you discover nothing is as it seems? Now you are in the sights of a ruthless killer determined to destroy everything you treasure.

It's the evening drive home from work on a route Joe Lynch has taken a hundred times with his young son. But today, Joe sees his wife meet another man—an encounter that will rip two families apart. Raising the question: Can we ever really trust those closest to us?

Joe will do whatever it takes to protect his family, but as the deception unravels, so does his life. A life played out without any rules. And a cunning opponent who's always one step ahead.
Joe Lynch is an average kinda guy. He's a teacher, married to a beautiful woman, with an adorable four-year-old son. He's happy with his lot, content in his marriage. Until the day he's confronted with evidence that his wife might be having an affair, and his love rival sets out to destroy his life.
T.M. Logan has set out a masterful tale with a somewhat unreliable narrator, struggling to find his way through the sudden curveball life has thrown him, and it's interesting to see how Joe struggles with his own feelings, his anger, and trying to both maintain and defend his status quo.
A rare first-person tale, Lies confronts us with our own insecurities surrounding relationships and ups the ante with a twisty tale of betrayal, online subterfuge, and suspected murder. Seriously. What if your whole life was based on lies?
At various points, I looked at other characters with my own suspicion and thought I had figured it out, but when Mr. Logan finally lets us in on the conclusion of the story, it's not exactly what you expect. An extra twist adds to the shock factor. The inclusion of day-to-day social networking activities and our dependence on it, our tablets and our phones, adds a little touch of reality and mystery.
All in all, Lies is a good, easy read, although I felt it dragged a little somewhere in the middle. That wasn't enough to hinder my enjoyment, and I would definitely recommend this one as one of the better reads of 2018.
Lies was provided free by St. Martin's Press (via NetGalley) in return for my honest opinion.
You May Also Like:
TBR Pile